NOW OPEN!
Experience the best sushi in Albuquerque at Sawmill Market!

From the family who introduced the first Japanese restaurant, Shohko Cafe, to New Mexico 40 years ago.
Hiro Sushi engages all your senses and transports your tastebuds into the world of Japanese cuisine.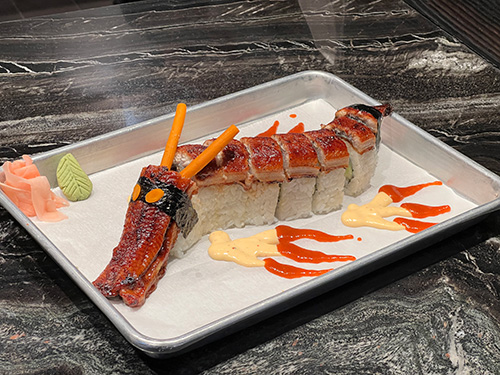 Dragon Roll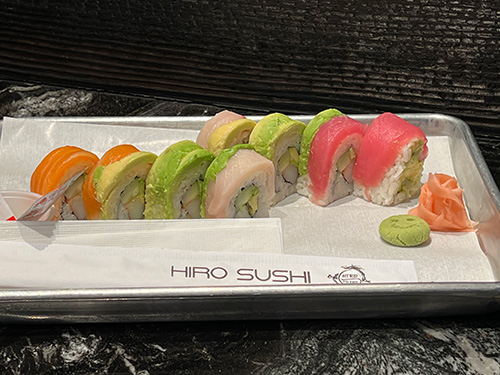 Rainbow Roll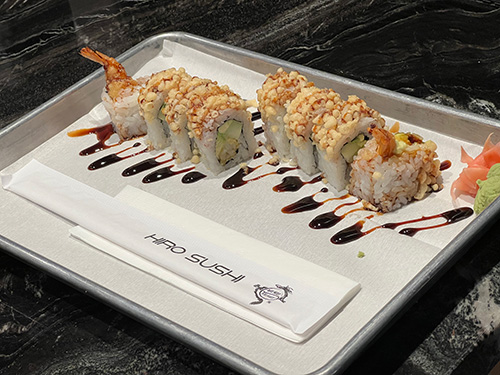 Crunchy Roll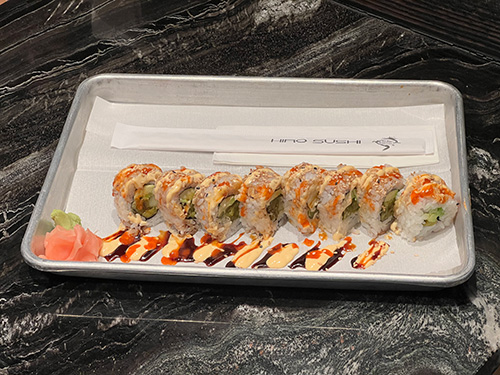 New Mexico Roll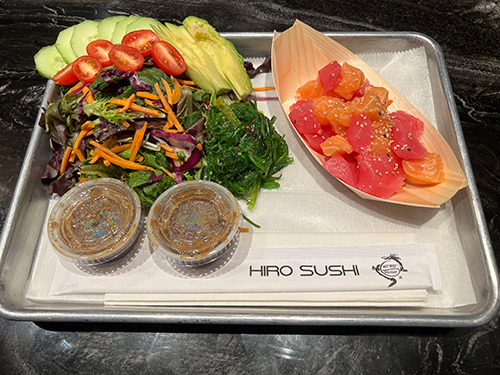 Salad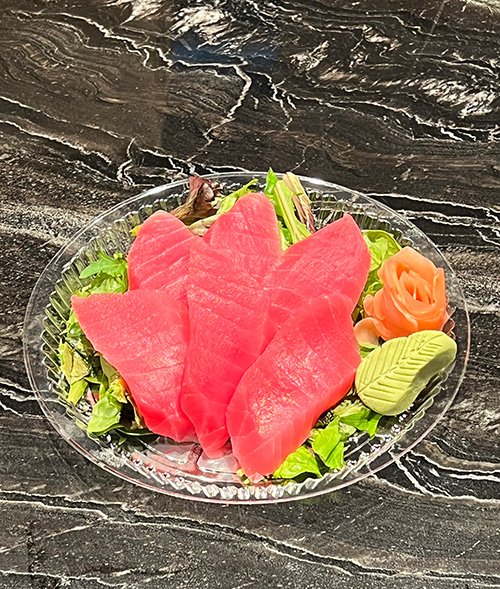 Tuna Sashimi
Avocado & Cucumber  |  7
8 pieces with avocado and cucumber
Vegetable  |  9
6 pieces with lnari (Fried Tofu), daikon pickles, burdock and cucumber

California  |  10
8 pieces with avocado, cucumber, crab, with sesame seeds on top

Philadelphia  |  16
8 pieces with avocado, cream cheese, smoked salmon with sesame seeds on top

New Mexico Roll  |  15
8 pieces with avocado, cucumber, green chili with Hiro special sauce (spicy)

Dragon  |  18
8 pieces California with whole eel on top with teriyaki sauce

Spicy Salmon  |  16
8 pieces with avocado, spicy salmon, spicy mayo, sesame seeds and sliced jalapenos on top (spicy)

Spicy Tuna  |  16
8 pieces with cucumber, spicy tuna, spicy mayo, sesame seeds and sliced jalapenos on top (spicy)

Crunchy  |  15
8 pieces with shrimp tempura, avocado, cucumber and Tempura Flakes on top with teriyaki sauce

Rainbow Roll  |  21
8 pieces Califonia with fresh salmon, tuna, yellowtail and avocado on top
Chef Special Roll A  |  20
8 pieces New Mexico with yellow tail and crab on top with special sauce (spicy)

Chef Special Roll B  |  25
8 pieces with cucumber, spicy salmon, shrimp tempura, fresh salmon on top with slice lemon and special sauce (spicy)


Located in the historic Sawmill District in Albuquerque's Old Town, Hiro Sushi invites you to enjoy chef-driven, fresh sushi in a vibrant and elegant environment. For decades, Hiro Sushi was an idea, a symbol, literally a simple wooden sign carved by Hiro to mark the sushi bar area in the heart of Shohko Cafe. Now it is Hiro's dream fully realized, a more personal, more customized space, grounded in natural wood and black marble with dynamic accents of calligraphy and light. Join us in our beautiful corner of Sawmill Market and let us engage your senses and excite your palate with our artisanal maki sushi rolls, nigiri sushi, and sashimi. Our chef combines traditional Japanese techniques with local New Mexican flavors to create our unique menu, and because we know how important it is for our guests to balance individual tastes and dietary needs, our food is always personalized and made to order. People of all ages love our California Roll (with avocado, cucumber, kanikama, and roasted sesame seeds), while the more adventurous delight in our spicy New Mexico roll (with green chili, avocado, cucumber, and Hiro's special sauce). Hiro's favorite will always be the house Dragon Roll (a California Roll enlivened with savory/sweet broiled unagi), a manifestation of the mythical Japanese creature he admires for its auspiciousness, energy, and wisdom. We hope you will visit us soon and explore all our menu offerings. At Hiro Sushi, you are part of our family, and it is always our pleasure to welcome you and share with you good food, health, and happiness.

For nearly 50 years the Fukuda family has been serving the people of New Mexico creative, health-focused Japanese food in unique and personal surroundings. Most well-known for welcoming the community to Shohko Cafe from 1975 to 2019, Hiro and Shohko's journey began in Tokyo in the 1960s, where they attended a fine arts university, worked as a photographer and illustrator, and became students of George and Lima Ohsawa, the Japanese founders of modern macrobiotics. In the early 1970s, Hiro and Shohko's interest in the natural and the creative brought them to northern New Mexico, where they raised their three daughters. In Santa Fe, they launched a small Asian natural food store off the plaza and ran a Japanese food booth at Fiestas de Santa Fe before opening the doors to Shohko Cafe, New Mexico's first Japanese restaurant and sushi bar. Uniquely decorated with Hiro's handmade wood furniture, paintings by Hiro's father, and Shohko's daily flower arrangements, Shohko Cafe would become a second home for generations of New Mexican families, a place to enjoy authentic Japanese food, the freshest sushi, innovative and locally inspired specials, and warm greetings from Hiro and Shohko, their daughters and grandchildren, and their staff and extended family. Today, the Fukuda family continues their tradition of balancing food, health, and art by bringing other types of Japanese cuisine to the community. In 2014, Naruto Ramen opened in Albuquerque, followed by Mampuku Ramen in Santa Fe (2019) and Naruto Ramen 505 in Albuquerque (2020). Each restaurant maintains a distinct, creative identity while serving health-focused, authentic Japanese food.